Our investment management platform makes it easier than ever to coordinate with investors, generate essential reports, and manage your investor communication needs all from a streamlined, centralized location.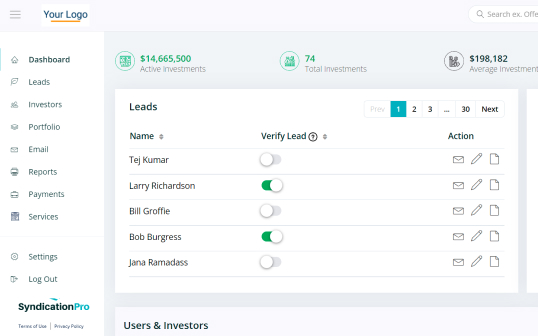 Comprehensive Solutions for Real Estate Syndicates
Regardless of how much assets under management you currently have, SyndicationPro is a solution that is tailor-made for your business. This is the only investment management software that helps real estate sponsors identify and nurture serious investors with its built-in CRM.
Real estate investment firms use SyndicationPro as their investment management solution to raise capital faster, automate deal workflows, collaborate with co-sponsors, centralize investor documents, distribute operating income and much more!
eSign Simplified
SyndicationPro's built-in PPMs and eSign functionality make closing investment rounds a breeze. Impress your investors with a quick-to-follow four-step process to complete their investment. You can display all the documents for your investors to view and enable them to understand the key highlights of a property.
Investors can do their due diligence within minutes while investing and complete the investment process. Configuring your PPMs to tailor to your needs is incredibly easy with our investment management solution.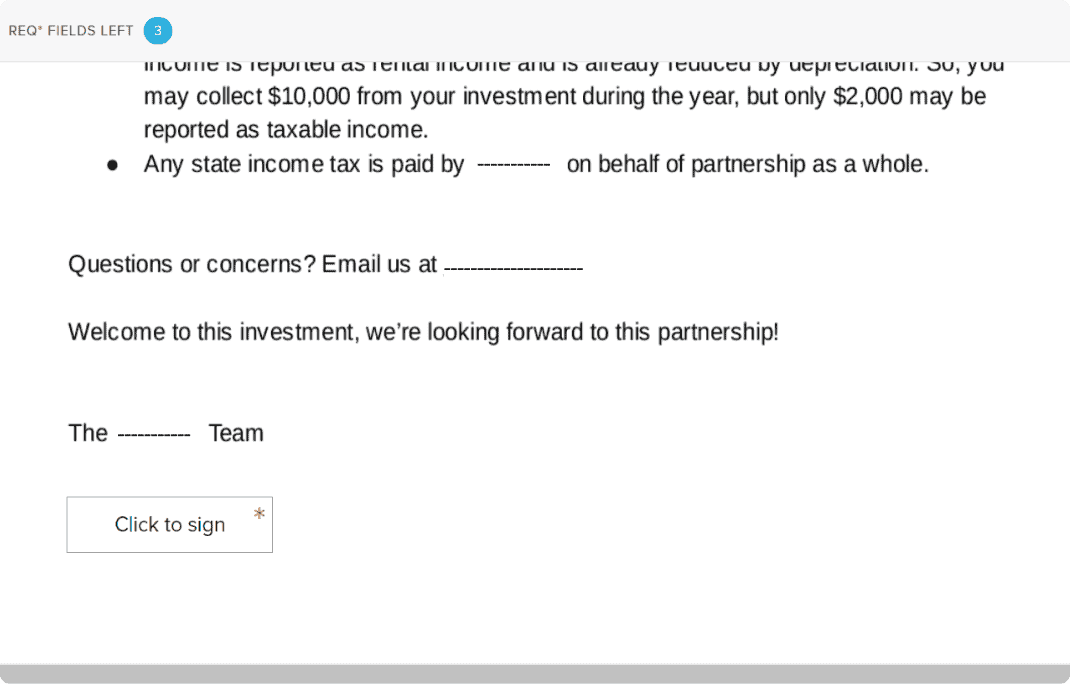 Take Soft Commitments
Using SyndicationPro's investment management services, real estate sponsors can mitigate the risk of not knowing how much money they can raise in the market by creating reservations for their future deals. This feature enables sponsors to broadcast the key highlights of their future deals to their investors and gauge the interest levels in the market. They also have the provisions to configure who has access to these deals. This feature allows sponsors to be top of mind for investors and use it as a marketing tool to promote the next deal and bring in more capital.
SyndicationPro is used by leading real estate firms like Think Multifamily, Obsidian Capital, Applesway Investment and hundreds of many others to efficiently raise capital, manage all investments, save time to close investments using customized PPMs, close bigger deals, automate profit distributions and much more!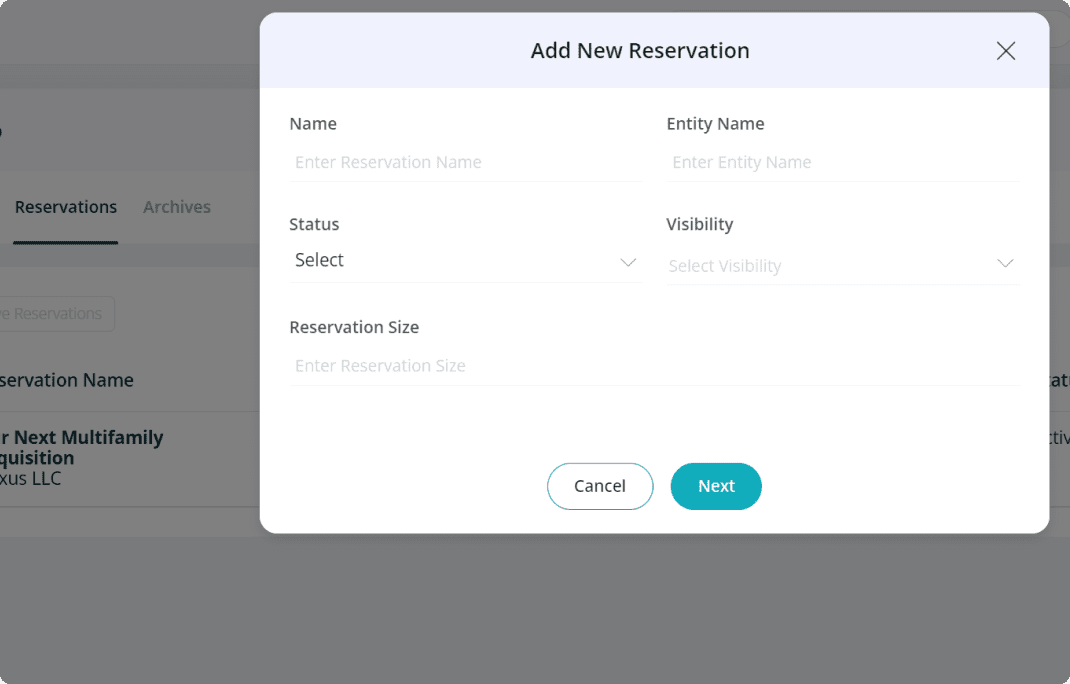 Save 54.32%

of your time in calculating investor returns.

Impress your investors with built-in Account Statements and reports that give you an institutional level feel.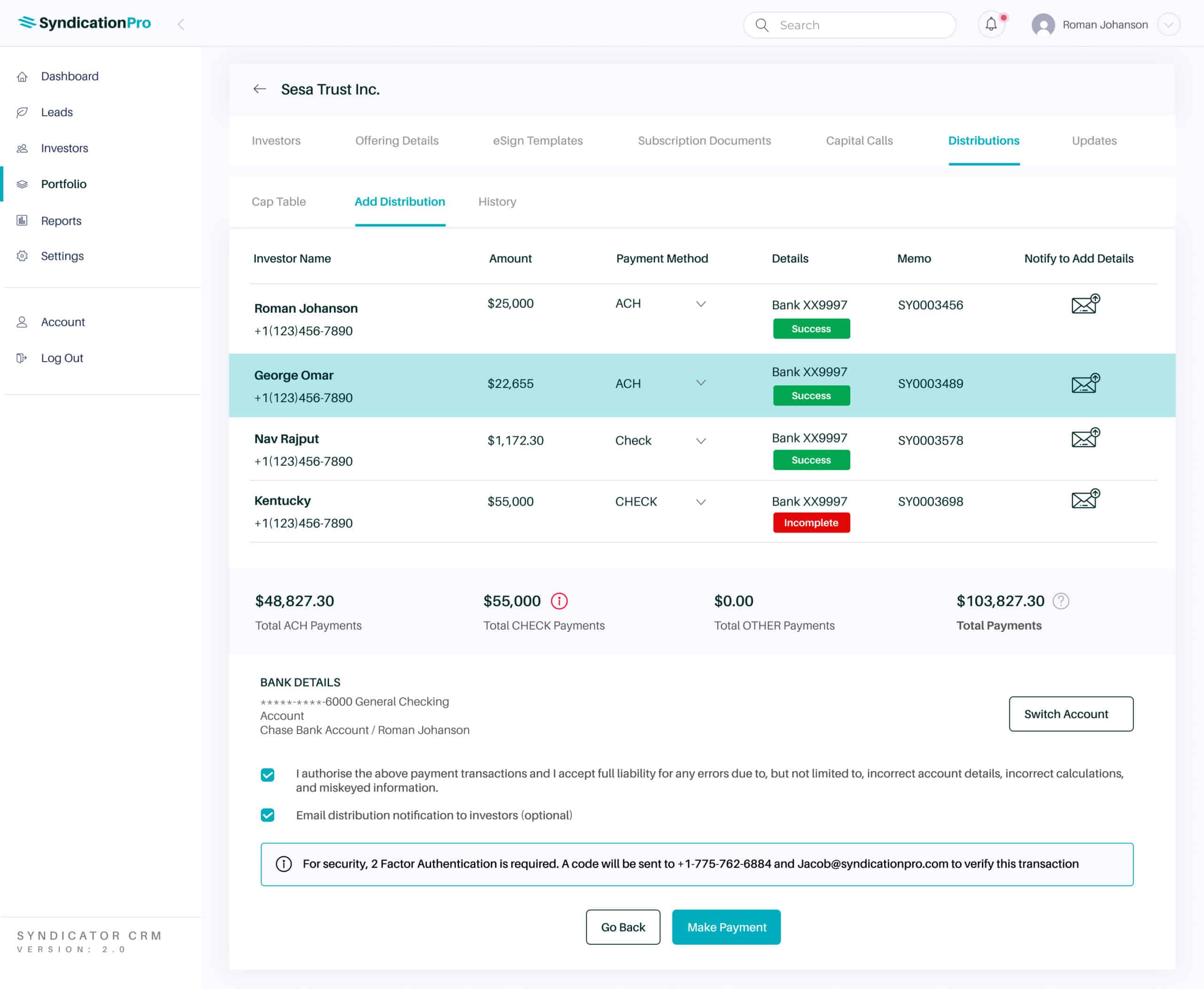 Manage Your Payments and Distribution Conveniently
Enhanced Productivity & Security
Through ACH Payments Processing your payments and distributing profits with your investors has never been easier. SyndicationPro offers direct electronic payments and money transfers from within the portal to make your investment management operations much more organized and precise.
More Effective Investor Management Through Hassle-free Payments
Enjoy the alternative to using paper cheques, Automated Clearing House (ACH) - the latest technology in e-Payments and the country's most trusted financial network, on SyndicationPro. Raise funds, close deals, and manage profit distribution efficiently by embracing the change.
Everything in One Place
Document & Profile Management
SyndicationPro automatically saves and organizes all relevant deal-related documents to an investor's profile. Contact information, distribution preferences, and addresses are also stored and available for the investor to update as required.
Generating Reports
Through our real estate investment management software, you are able to generate relevant reports on individual or groups of investors, and specific deals. Use predefined reports or create custom reports.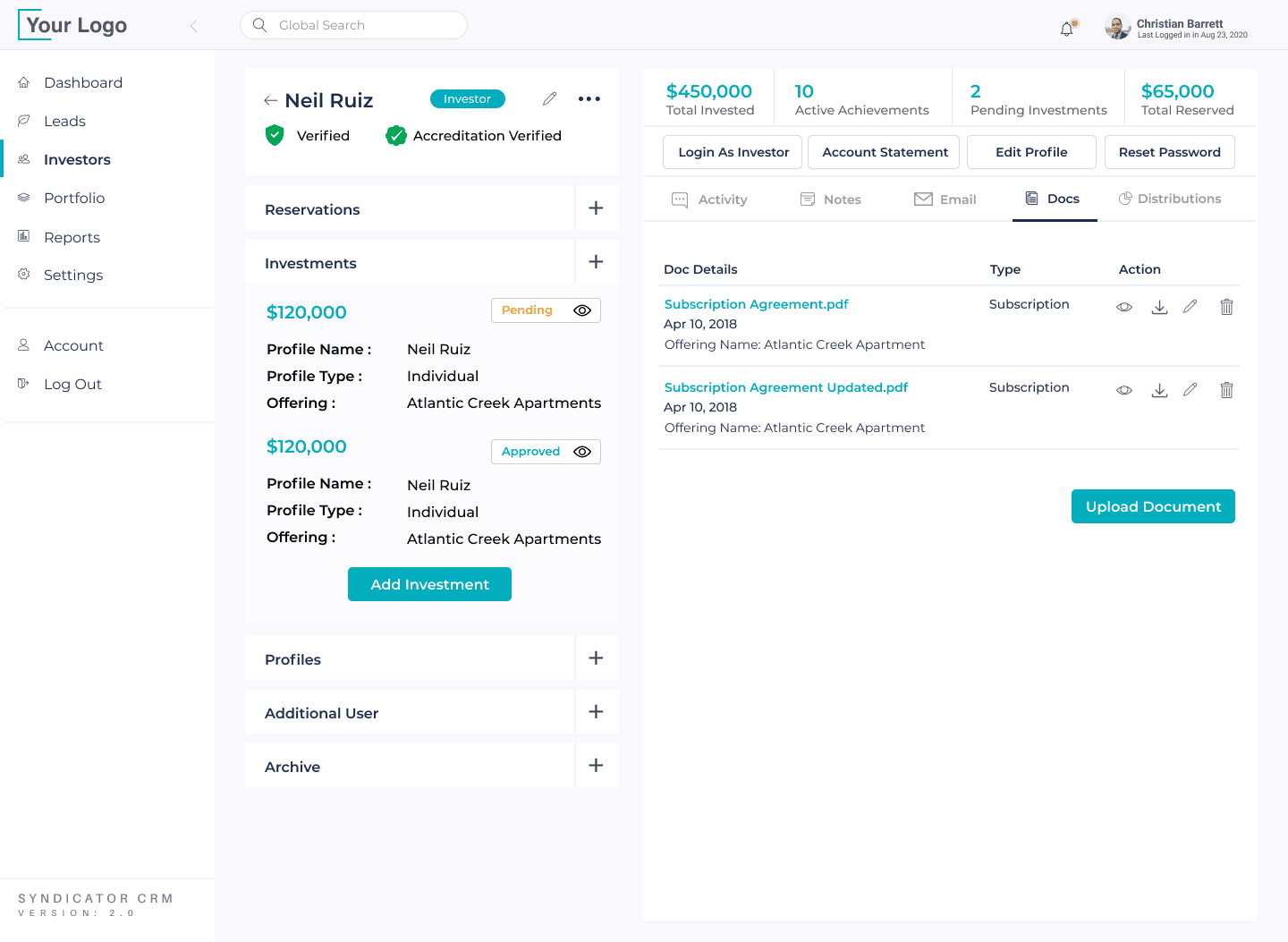 Investor Relations Streamlined
Send Rich & Detailed Investor Updates
Sending investor updates cannot be simpler! You can send rich text investor updates with an option to attach files. All updates are automatically stored on an investor's dashboard and you also have the option to email the update to the Investor.
Answer Investor Questions in App
Investors may ask you questions via email and you are able to answer them directly from within SyndicationPro with the 2-way email sync. Leave private notes behind from your conversations with Investors.
Calculate Distributions & Generate Investor Statements.
Waterfall Distributions
Use our real estate investment management software to calculate simple waterfall distributions and notify investors. If your syndication includes preferred returns or a unique structure, you are able to import in the distribution amount and notify your investors.
Investor Statements
Send Investor Statements for specific time periods that include information about investments and distributions. Allow Investors to download Investor Statements from their Investor Dashboard.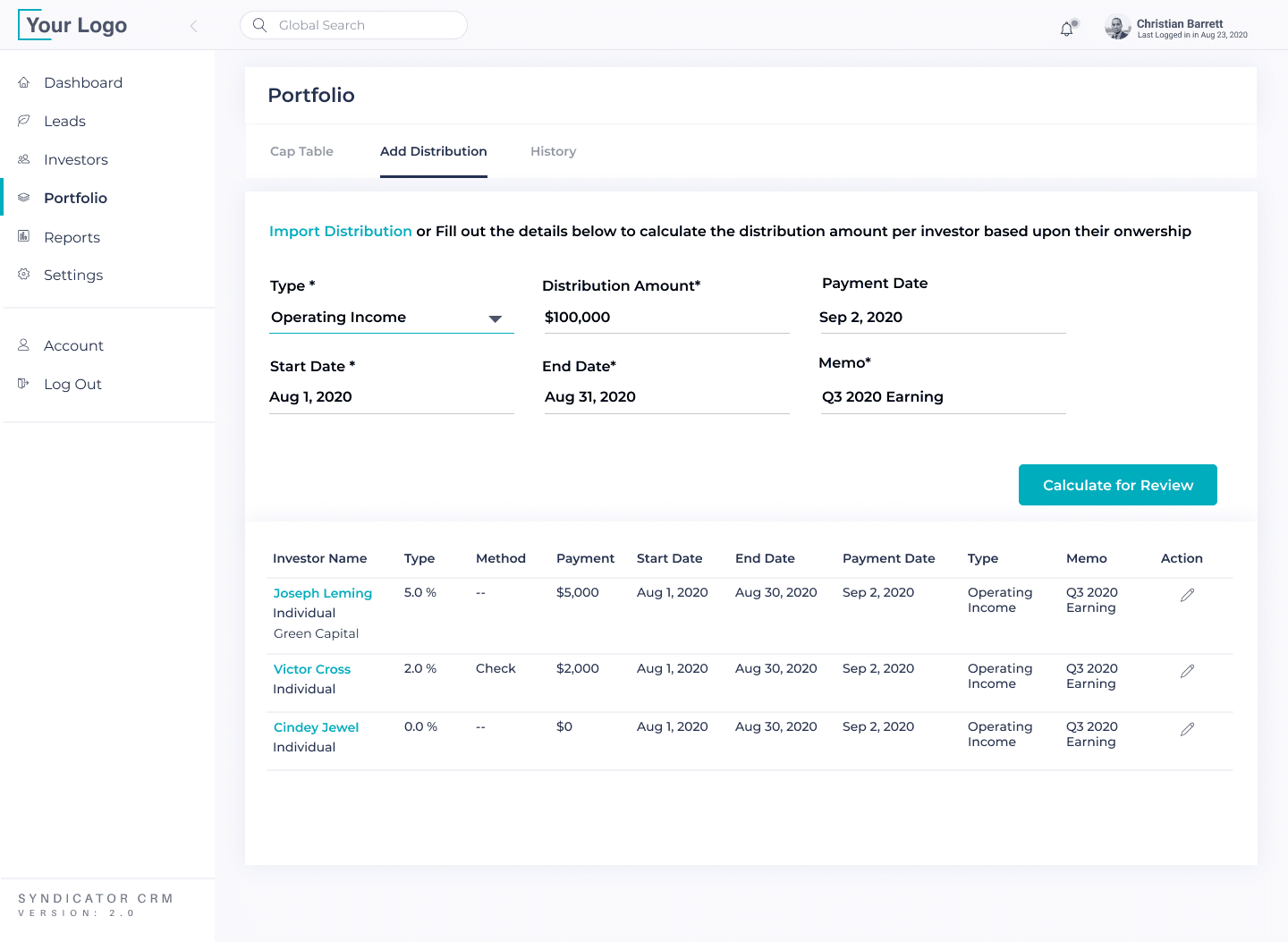 Our Deep Product Roadmap
Multi Channel Drip Lead Nurturing Campaigns
Call & Text From within the Platform
Advanced Email Tracking
Follow-Up Reminders & Tasks
Close your investments with an easy to follow four-step process.
Get your investors accredited from within the platform itself for your 506(c) raise.
Frequently Asked Questions (FAQ)
With the right investment management software, your real estate firm can considerably improve its portfolio management practices and raise capital with ease. An investment management software helps you manage all your investors' data in a centralized repository and empowers your team to be proactive in nurturing relationships, managing all the deal workflows, and mitigating the need for manual calculation of investor distributions.
If you're a syndicator who wants to automate your fundraising process while streamlining your deal workflows, then having an investment management software is extremely important. Investor portfolio management can be extremely challenging when you're using spreadsheets. An investment management solution eliminates all the paperwork and is built to help you scale as you add more projects to your real estate portfolio. An Investment Management Software eliminates the need for real estate sponsors to manage their investors offline by enabling sponsors to focus on their core business needs while it takes care of all the back-office workflows.
Picking an Investment Management Software can be tricky, especially given how many investor management portals are out there in the market. A good understanding of your needs and requirements and the problems you are trying to solve is always a good initial starting point in picking the best Investment Management Software for your company. Once you know what you're looking for, you can zone in and narrow down on the top most investment portals that meet your needs. Price, scalability, and ease of use are other factors to consider when choosing an investment management software.
SyndicationPro is the only investment management software built by and for Syndicators. Our expertise as industry experts gives us an edge over our competitors, which allows us to prioritize building features that truly help sponsors scale as they add more projects to their portfolio. SyndicationPro's cloud-based platform is built with all the features that a real estate sponsor needs to raise capital faster, close more deals and save time.
With its integrated CRM, SyndicationPro makes investor onboarding effortless. SyndicationPro allows you to directly embed the sign up & login page on your website. Leads who sign up can easily establish a relationship with the lead sponsor by scheduling a call at their own convenience. Sponsors can easily verify their accounts after the call and allow them access to view all their current deals in place.
SyndicationPro's built in e-sign functionality allows you to quickly get your PPM documents signed by all your investors. Furthermore, it allows Sponsors to customize their PPM documents to meet their unique requirements for their deals. Investing in a deal is a four step process that enables investors to do their due diligence and complete their documentation within minutes.
Distributing operating income for investors has been made incredibly easy with the launch of ACH functionality, which allows Sponsors to calculate investor return within seconds and send out the distribution by the click of a button.
SyndicationPro has partnered up with Parallel markets to enable Real Estate Sponsors to verify the accreditation status of their investors from within the platform itself. Investors will be required to verify their accreditation status when making an investment on an active offering. Investors can also upload their own accreditation letter if they're already accredited, provided the accreditation letter is not older than 90 days.
SyndicationPro has the best in class security when it comes to data protection. We have enabled 2FA (Two FactorAuthentication) to enable secure login for users. Along with that, SyndicationPro uses end to end encryption, firewalls, physical and virtual access control, regular qualys scan and much more to ensure the security of the platform.
We at SyndicationPro pride ourselves at taking customer feedback seriously and have implemented multiple features which were recommended by our clients. This has allowed us to build long lasting relationships with our clients.