SyndicationPro already has a closely-knit global team with talents across various domains. We believe in learning, innovating, and growing together, empowering our team and clientele with technology-driven solutions that ease their real estate investment management.
We consider our employees as our biggest asset. With a zeal to respect and help each other, we support our clients throughout their real estate investment lifecycle, adopting a collaborative approach. We prosper together as a team, enhancing the technical abilities of every team player through endless learning and innovations.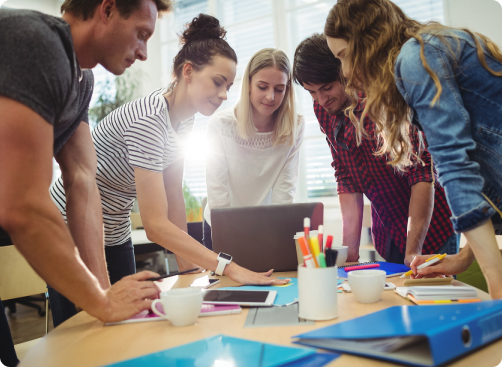 Opportunity to Excel
Our goal is to educate and encourage our clients to leverage the most holistic digital technology for their real estate syndication endeavors. Selecting the right candidate for the role is a crucial part of the process to achieve this. At the same time, our motto is to bring the best in each employee to succeed as a team.
Working with SyndicationPro would be a life-changing and exciting opportunity. You get a chance to utilize the best of your domain-specific skills and experience. Again, continuous learning to upskill and encouragement to be curious will help you excel.
Attaining career growth, shouldering increasing responsibilities, cultivating the best practices, and absorbing new technology, yet, with smiles on your faces, is our culture. We are proud of that.
Value-driven Multi-dimensional Growth
Our motive is to make consistent profits aiding our clients to excel. Simultaneously, we aim to build a global company that respects and adheres to the values. We respect diversity in nationalities, religions, belief systems, gender, skin tones, and languages.
We believe that the workforce and clientele from a variety of origins strengthen our inclusiveness. We believe in thriving by empowering the foundation of values and spreading our wings by leaving a positive impact on the real estate investment sector across the globe.
At the core of our business model, there is growth for all in multiple dimensions. We would like you to get involved in complex and challenging work, ultimately aiming at making our clients' lives smoother and simpler through the excellent solutions we deliver in the long run.
Eager to Welcome Result-oriented Talents
Celebrating success and helping our people to perform to the fullest is a significant part of our culture. We are on the drive to hire responsible individuals that can enrich our 'customers-first' approach leveraging their skills, domain-specific expertise, and the zeal to deliver the best they can, being a trustworthy team-player amid a high-performance team.
We are on the lookout for the best talents in various streams of work. Do you feel inspired to join SyndicationPro? If you believe that your skill sets and professional experience match our requirements, we would love to hear from you.